Kontakt
KANRA Commercial and Service Company
Halina Kania
ul. Podlesie 87, 32 - 052 Radzisz≤w
phone: /012/275 17 72
fax: /012/275 16 79
mobile:+48 502 333 962
www.kanra.pl
eMail: biuro@kanra.pl
IN VAT: 679 - 000 - 03 - 09
Account:
Bank Sp≤łdzielczy w Skawinie,
ul. Rynek 19 32 - 050 Skawina.
Account Number:
93 86000002 0000 0009
2021 0001
Company presentation
Kanra Commercial and Service Company is a company that produces car bodiesł elements of passenger vehicles and delivery vans, as well as details for building industry. Founded in May 1991 it is located in Radzisz≤w, 5 km south from Skawina and approximately 10 km from A4 Motorway. Production range comprises of pressing, welding and painting of products using powder or spray lacquering techniques. On customerłs request we offer metal-work and enamel services.
Stamping press - line of excentric presses of 5-40 tons pressure and line of hydraulic presses of 10-200 tons pressure.
Production range of the stamping press comprises of sheetsł die shearing and stamping.
Welding - the company has a range of spot-welding machines and welding machine for butt welding of screws, pins or pegs to sheetłs surface of any thickness.
Paint shop - the company offers services of powder/spray lacquering for any color. On customerłs request we offer cataphoresis, which is the electrophoresis lacquering technique.
Tool-room - companyłs service range comprises also of projecting and executing instrumentation for sheetsł cold working and welding equipment.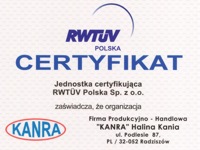 Transportation and delivery - about 300 m2 of warehouse area with overhead traveling crane of 5 tons lifting capacity. Transportation û delivery van of up to 2 tons load capacity.
Quality - We take all pains not only to ensure the highest quality of our products but also its constant improvement. To take up this gauntlet we have made a decision to implement Quality Management System that is accordant with PN EN ISO: 9001-2000 standard. Our actions that were started at the end of 2004 bore fruits on July 14th 2005. On that day we were given certificate by RV TUV certificating unit in Katowice.